Drawing for Childen is a free drawing program.It is specially designed for children with child mode option.It enables children to draw and to picturise their creative thoughts easily.Different pens to color,to stamp pictures on drawing and with many more options like creating text effects it is designed.It is used by hundreds of thousands of kids all over the world. It is a free tool for children and for more details to download visit
Drawing for Childen.
This is the screenshot of Drawing for Children.Enjoyable Learning with fun for young minds is available for free.
TuxPaint
It is another wonderful free computer software tool for kids.This award winning drawing program is designed for children aged 3-12.E
asy-to-use interface, fun sound effects, online cartoon mascot guidance are the highlights of this program.Line tool,Paint brush,Shape tool ,Rubber stamp and more features are available.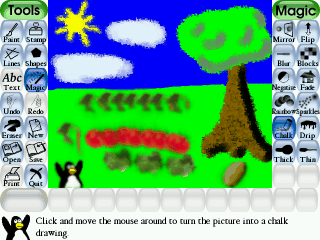 MORE DETAILS ABOUT DOWNLOAD VISIT TUXPAINT.