Chetan Bhagat condolences for 'Immortal' Jobs as
" He was my hero. My inspiration. My role model. Steve Jobs, there never was, never will be anyone as cool as you. RIP. Excellence, innovation and making people happy - values Steve Jobs stood for. Thank you god for making him. Am very sad and shaken".
Who is Chetan Bhagat?
Chetan Bhagat is the author of five blockbuster novels – Five Point Someone (2004), One Night @ the Call Center (2005), The 3 Mistakes of life (2008), 2 States (2009) and Revolution 2020 (2011).
Chetan's books have remained bestsellers since their release, and have been adapted into major Bollywood films. The New York Times called him the 'the biggest selling English language novelist in India's history.' Time magazine named him in the "100 Most Influential People in the world" and Fast Company, USA listed him as one of the world's "100 most creative people in business."
Chetan writes columns for leading English and Hindi newspapers, focusing on youth and national development issues. He is also a motivational speaker.
Chetan quit his international investment banking career in 2009, to devote his entire time to writing and make change happen in the country. He lives in Mumbai with his wife Anusha, an ex-classmate from IIMA and his twin boys Shyam and Ishaan.Source:chetanbhagat.com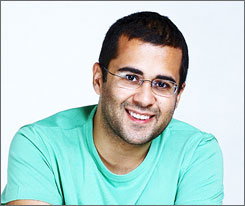 Chetan Bhagat tweets about Infosys Narayana Murthy
"It is ironic when someone who runs a body-shopping company and calls it hi-tech, makes sweeping comments on the quality of IIT students," Read More
Revolution 2020 Chetan Bhagat's much-awaited book Launch by
Yuvraj Singh
"I picked up Chetan's book because I thought it had something to do with cricket. The name 20-20 is very popular nowadays," joked
Yuvraj Singh
at the launch of Chetan Bhagat's latest book, Revolution 2020: Love. Corruption. Ambition.Read More
Revolution 2020
is about corruption in the education system in the country in the backdrop of a love story. Read More